Supported Decision-Making for Educators and School Administration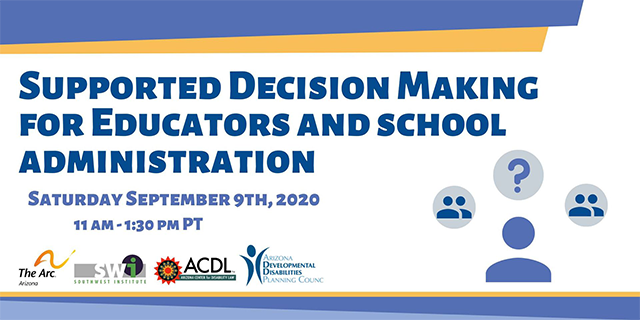 Date/Time:
Saturday, September 19, 2020 -

11:00am

to

12:30pm
Register using the Eventbrite link below: https://www.eventbrite.com/e/114479743996
As young adults age within the school system, parents and educators are faced with the tough decision of whether or not to pursue guardianship for students with disabilities. Searching for an alternative to legal guardianship for people with disabilities? Join us to learn more about how Supported Decision-Making serves as a less restrictive alternative to guardianship. Learn how to develop a plan of support that will allow a person with a disability to keep their rights while getting the support they need to live independently.
Register using Eventbrite and you will receive a link for the free online training: https://www.eventbrite.com/e/114479743996
If you need online accommodations, please let us know at least 3 days in advance in the registration form or contact George Garcia at [email protected]