Current Issues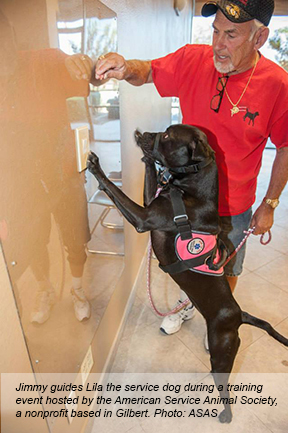 Service Animals
Service animals serve an important purpose in the lives of many individuals with disabilities. Service dogs and miniature horses, which are the two official types of service animals designated by the federal government, perform tasks and provide medical support for people with disabilities.
The Arizona Developmental Disabilities Planning Council strongly supports the use of service animals in strict accordance with the Americans with Disabilities Act, Title III, and existing Arizona Revised Statutes.  These laws are essential for ensuring that persons with developmental disabilities who rely on service animals for important support needs are granted full access to their use in the home and community without being unduly restricted by policies or laws that violate federal statutory requirements.
Click here for a tip sheet on service animals from the Civil Rights Division of the U.S. Department of Justice.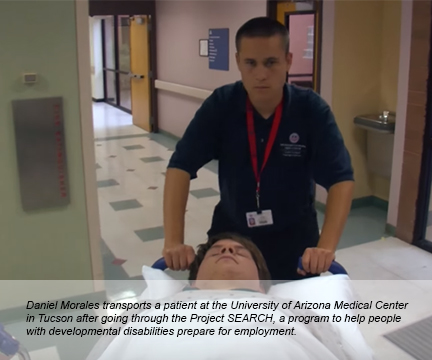 Financial possibilities for people with disabilities—ABLE and beyond
Benefits can provide a much-needed safety net for individuals with developmental disabilities. However, many people who receive federal assistance—whether for Medicaid, supplemental security income (SSI) or other programs—are afraid to seek out jobs because they believe earning more money will automatically disqualify them from continuing to receive benefits capped at a certain income level. A nationwide movement to dispel this entrenched myth is underway.
One successful statute aimed at combating this problem, dubbed the Achieving a Better Life Experience Act, was signed into law by President Barack Obama in December 2014.
Arizona legislators, led by Representative John Allen, passed a local version of the ABLE Act. It provides the framework for state residents who receive aid to save money in a designated 529 account.  On May 12, 2016, Governor Doug Ducey signed HB2388  into law, which directs the Department of Economic Security to administer the program alongside a designated financial institution.
The Arizona Developmental Disabilities Planning Council strongly supports the ABLE Act, as well as any supporting policies and state legislative action that will support the implementation of the Arizona law, as a necessary financial tool for persons with developmental disabilities to achieve independence, improved quality of life and the fullest degree of community inclusion possible.
Click here for more information about the ABLE Act.