Caregiving and COVID-19: "That Would be Death to Him"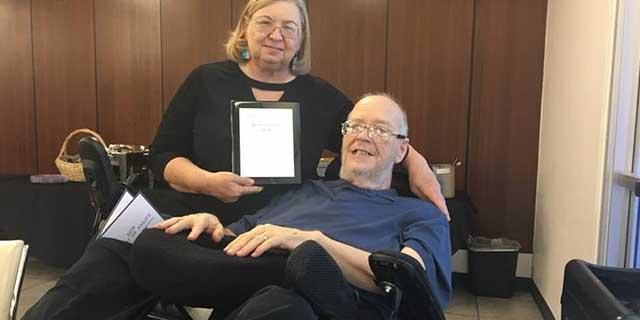 by Michele Stokes, Guest Writer
Our Voices is a series featuring guest bloggers in their own words sounding off on disability issues in Arizona.  
Michele Stokes serves as the Americans with Disabilities Act (ADA) Compliance Specialist for the City of Tempe.
It's hard to admit to myself... except in the deep hours of the night... let alone to others... The soul-deep grief impact of this time. It is almost as deep as the grief I felt when my first husband died...
Why? Because if I get sick and am hospitalized, that would be death to my husband. My husband cannot self-care due to a spinal cord injury that results in para/quadriplegic-like abilities. He has other diagnoses, as well.,including a stomping progression into Stage 4 Parkinson's which now includes the ugly symptoms of dementia. Without me to navigate "life" with him, he cannot function at home. It's fragile... and COVID-19 is a real threat.
If it comes to my home, that would be death to him.
We are barely hanging on to a "semblance" of independent living for him, as it is. And that is with two caregivers, a home care nurse for catheter changes and well checks, and ALTCS supports(link is external) at home. There is no backup plan for him to remain at home if I am not here. If a third caregiver is needed, ALTCS will most likely require he be placed in a facility. This is a function of the ALTCS budget cap... home care cannot exceed 80 percent of what it costs for him to be in a facility. It's not unreasonable in terms of managing services, but these are unreasonable times!
Anything happens to me, i.e. I get sick with COVID, (I was tested a week ago - it was negative - Hallelujah!), we have no good solution to his care other than for him to move to a facility. I have nowhere to go to self-quarantine. He is medically fragile, and if he gets COVID, that would be death to him.
We both know the impact would be life changing. His highest pleasure at this time is being able to sit on the patio in his wheelchair and watch our three dogs, be dogs, and watch game shows and crime/cop shows. He would not have that luxury in a facility and knowing him, with me not engaged with him regularly, he would gradually lose hope... and that would be death to him.
When I see the ones who won't mask up, won't self-distance, won't care - that phrase comes to me... "That would be death to him" and I have to keep the emotions locked in or I cannot function.
Mostly, I just keep going, as we tend to do... and let out the heavy emotions in the night to the Lord. I only let them out late at night, when hubby is asleep... He cannot handle any sense of negativity, as it throws him into agitation, or what I call the dementia spiral...
Oh, but I love this man, so. I know him, his kindness, and his love of people. I can only pray we don't see the situation progress...
That would be death to him.