Meet CJ Hernandez - One Community Working Together Awards 2019 Winner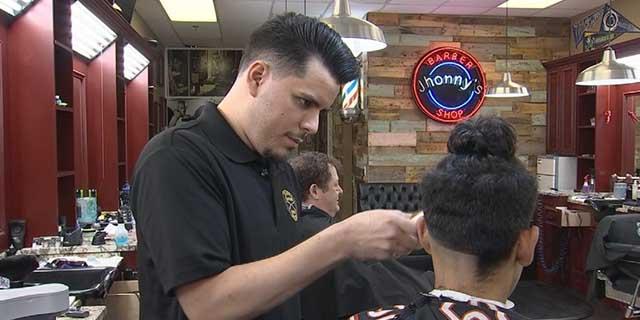 by Sarah Ruf, Community Relations Specialist
Carlos Joseph (CJ) Hernandez is an ambitious and talented 27-year-old with autism who has created a successful career as a barber at Jhonny's Barber Shop in Avondale.
When he's not at work giving people awesome fades, he uses social media to help others overcome barriers related to autism.
His Instagram account has more than 1,300 followers at CJ the Autistic Barber where he proclaims "I am a professional barber with Autism that gives good quality haircuts."
We had the opportunity to honor CJ at the inaugural One Community Working Together Awards earlier this month. He was nominated for the Self-Advocate award by the Southwest Autism Research & Resource Center (SARRC).
"I really want to inspire everyone in the whole world, this entire planet," CJ said in his acceptance speech at the Ability360 Conference Center on October 4, 2019. "But first it only takes one step at a time, so that's why it makes me, as an autism advocate, it makes me feel proud. I have a lot in common with some young kids and adults who are on the spectrum. I can relate to them. It makes me so happy and proud how I inspire their parents, as well."
Haircuts to Help Others
His specialty is catering haircuts to kids on the autism spectrum or who are uncomfortable with getting their hair trimmed. It all stems from personal experience, SARRC staffers wrote on the nomination form: "In fact, CJ, who was diagnosed with autism at three years old, used to be scared of getting haircuts. 'What got me real intimidated was the clipper, how it makes the noise, and the shears. I thought they were going to cut my eyes out,' he says. His mom, Mary McEvilly-Hernandez, said he would scream at the top of his lungs, cry, and refused to step foot in a barbershop."
SARRC staffers had lots of admiration for CJ: "He will be the first to tell you he is proud of who he is. He started using social media as a platform to share with others, especially other young adults with autism, that there is a world of possibility for them, too."
They continued: "CJ reached out to SARRC and First Place AZ (a supportive, inclusive residential community for adults with autism and other neuro-diversities) with the aim of giving of back to the community. He accomplished this by offering free haircuts to the students in the First Place operated by SARRC Transition Academy program. CJ volunteered his time on a biweekly basis, bringing in his own equipment, barber's chair, apron, disco lights and music. This opportunity impacted the students by providing an affordable (giving CJ a tip) budget solution for haircuts, allowed them to maintain their personal hygiene, which is critical in the workplace and when meeting new people and dating. Lastly, CJ's talent and generosity presented our students with a positive and empowered view of a successful and caring adult with autism."
From scared boy to outspoken social media advocate, CJ is finding the road to success by taking his own path. In honor of National Disability Employment Awareness Month, we congratulate CJ for all his hard work as a self-employed entrepreneur in Arizona representing his community and sharing his passion with others. 
Tue, 10/29/2019 - 12:31pm