My Job Story: Paul Costantini and Janae Cokey - Phoenix, AZ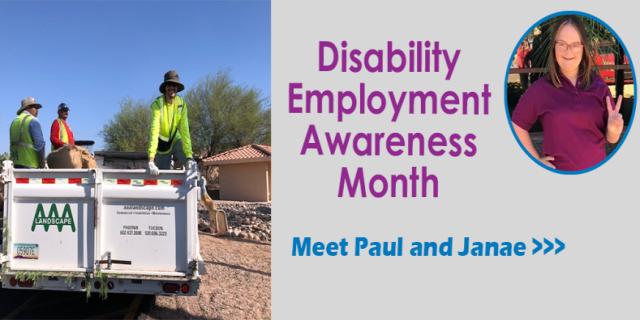 By Julie Whitaker, Program Project Specialist
We're honoring October once again as National Disability Employment Awareness Month. Not only are we cheering a new proclamation from Governor Doug Ducey, we're celebrating two more Arizonans with developmental disabilities who work in the community.
Janae Chokey, Program Assistant at DSNetwork Arizona
Janae has been working with the Down Syndrome Network in Arizona since April 2018. She is responsible for mailings, data entry, and connecting with the public at events. Her supervisor Ariel Samson looks forward to adding answering phones to Janae's tasks soon.
Janae was approached by DSNetwork to be a program assistant. With the support of her mother and a speech therapist, she applied for the position and completed the interview. She had worked in an office setting before, helping at her father's office on Wednesdays. She still helps at his office once a week. Ariel and DSNetwork executive director Louise Bowden say that step-by-step directions and modeling have been crucial in helping Janae succeed in her position. "Really, we just do what would be considered good training practices for any employee to help Janae grow in the role," Ariel says.
Paul Costantini, Landscaper at AAA Landscape
Another young adult thriving in the workplace is Paul Costantini.
Out in the West Valley of Maricopa County, Paul works with a crew of about five other landscapers to keep commercial properties trimmed and beautiful. AAA Landscape is a commercial landscaping company with offices in Phoenix, Tucson, and San Antonio. They employ 400 employees, including several individuals with disabilities.
"I found this job when I went to the job fair at the library," Paul shares. "I was happy that I found a job where I can work with plants."
Paul has always liked gardening, so when he attended the August disABILITY Job Fair at the Burton Barr Central Library in downtown Phoenix, he was excited to apply for a job at AAA Landscape. He went through the interview process that day and soon was traveling with the crew to job sites.
"I currently work eight hours a week, but I want to work more," Paul says. "I would like to pay for classes at Glendale Community College." Paul is still learning all the skills required for his role as a landscaper, but with daily team meetings and occasional reminders throughout the shift about tasks and safety from his supervisor and colleagues, he is catching on fast.
Check out the 2018 employment policy brief on employment for people with disabilities in Arizona by clicking here.
Check out Governor Doug Ducey's signed proclamation declaring
October as Disability Employment Awareness Month