My Job Story: Spencer's Place - Surprise, AZ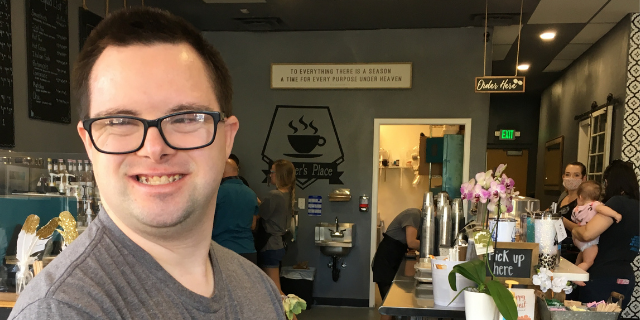 by Sarah Ruf, Communications Director
October 2020 marks the 75th anniversary of National Disability Employment Awareness Month, and a new coffee shop serving up delicious drinks and baked goods is proving how Arizona young adults with disabilities can be employed in the community.
Karin York and Spencer Nickell set up Spencer's Place at the corner of Weems and Waddell Road in Surprise, Arizona at the start of the year. A huge wave of community support has kept the doors open during the unexpected pandemic that hit two months after its grand opening.
While challenging, the word of mouth promotion and community support has been a lifeline for the mother-son business duo.
On a buzzing fall day, patrons chatted at socially distanced tables and a steady stream of customers ordered beverages and pastries.
Spencer, 30, loves to work three days a week at his namesake coffee shop. "People will be grateful when they come," he assured.
"I love working with my mom," he added.
As a special education teacher serving students in elementary and high school in the Peoria and Dysart school districts, Karin's background built a foundation for her work cultivating competitive employment.
Over the years, she began to notice very few students who studied in self contained classrooms secured job interviews after graduation.
"We focused a lot of adult preparation and transition...[but after graduation] they were doing a whole lot of nothing," Karin said. "I was frustrated listening to them."
Spencer has Down syndrome and as a result, qualifies for a variety of services as an adult. "Spencer was in a comfortable setting for me as a parent, he didn't need a job necessarily," Karin said. She saw a gap for those adults in their mid-20s without a daily routine of work and hired employees who fall into the gray area between qualifying and not qualifying for services.
"My hope is to be able to give them job experience to put on a resume," Karin said. "The job experience - that seems to be the biggest hurdle."
An inclusive workforce - 15 employees with disabilities, 22 in total - coupled with on-site job coaches make Spencer's Place stand out.
Spencer's Place is a for-profit small business, and there is a companion nonprofit that has helped with some purchases and initial construction. During the first shutdown due to the pandemic, it became very challenging to get products like milk - but community members came to the rescue with cash and in-kind donations.
It's just another way the Surprise java joint differs from a typical coffee shop. "You wouldn't have 22 employees, and any cash transactions are supervised by a job coach."
Different positions are filled by the young workers: barista assistant, cashier, making drinks, greeter, food prepper.
Due to high demand, Karin recently created an internship program to teach soft skills that come with a coffee shop job.
Employee Michael Rivera, 26, rotates between different jobs at Spencer's Place, where he has worked since November.  He stopped to take a short break to share what he loves to do.
"I enjoy the register," he said. "Cleaning dishes, sanitizing the shop."
"I think you do every position," Karin responded. "Michael is so smart and capable. We push him a lot. He is such an effective communicator. He remembers names and faces." 
He first met Spencer at their shared day program. After then meeting Karin and learning about the business, Michael switched from a cleaning job at Luke Air Force Base to his new coffee shop position.
His advice to new employees? "I tell them it's ok, in order to get used to it."
Spencer's Place is open Monday - Saturday 7:30 a.m. - 2:00 p.m. and located at 15341 West Waddell Road, #B101 Surprise, AZ 85379.
For questions, call (623) 473-8899.