Spring into Fitness: Staying Healthy in Arizona With a Disability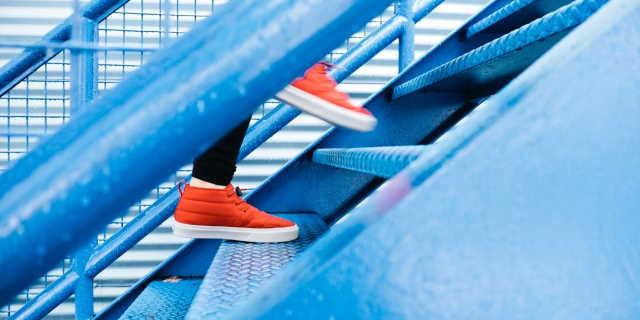 by Annie Eldon, Guest Writer
Our Voices features guest bloggers in their own words sounding off on disability issues in Arizona.  
Annie Eldon is finishing out her Arizona State University social work internship with the Council, and we've been lucky to host her this school year. One of her passions is wellness - read on as Annie highlights her research into ways Arizona residents with developmental disabilities can stay active and healthy.
It's spring in Arizona! 
Time to exercise and burn off those winter pounds. Most of us can join a gym or hike without a second thought. The same can't be said for some people with intellectual and developmental disabilities (I/DD). The Americans with Disabilities Act (ADA) requires all gyms to be physically accessible, but what about the equipment and trainers inside? Visitors can request accommodations, but will staff know how to work with people with I/DD? 
How can individuals make time in the day to exercise if every minute of the day is planned out by guardians or support staff? And then there's the cost — how can they afford healthy food or exercise programs on a tight budget?  The following programs strive to answer these questions and provide healthy affordable services around the Phoenix metro area. To find information about your nearby options, contact your local city or county recreation departments. 
STARS (Scottsdale Training and Rehabilitation Services), a day program and employment provider for people with disabilities which incorporates nutrition and fitness into their program in Scottsdale, Arizona. Staff are trained in nutrition and how to make meals healthier, such as by including more vegetables. In addition, GymGuyz, a mobile fitness company, leads an hour-long program for participants with disabilities at the STARS Cholla location twice a week. Participants lift weights, jog in place, and learn how to stretch. Family members say their loved ones are more verbally active, energetic, and show mental improvement since participating in the exercise program. Participation is open to anyone in the STARS program.  
Handlebar Helpers is an organization run through STARS that teaches people with disabilities how to fix bicycles, and then sells them to the community. Cycling is a great way to exercise and enjoy the beautiful spring weather. Handlebar Helpers bikes are sold for as low as $20, and styles range from beach cruisers to mountain bikes. The organization, which is affiliated with STARS in Scottsdale, is open Monday-Friday from 9:00 a.m. – 12:00 p.m. and host an evening sale every second Friday of the month from 5:00 p.m. – 7:00 p.m. Check out the Facebook page for more information on their upcoming bike sales! https://www.facebook.com/STARSAZHBH/
ExDS (Exercise Program for Adults with Down Syndrome) is a partnership between Arizona State University, the Down Syndrome Network of Arizona, and the YMCA that provides a free long-term exercise program for people with Down syndrome. College students majoring in fitness or kinesiology pair up with participants to complete exercises including weight-lifting, cardio, and stretches. Participants love hanging out with college students because they "feel cool" and included. Students like it because they implement activities learned from class in a professional way,  learn how to adapt exercises to work effectively with diverse populations, and build their resume. Director Dr. Holzapfel's motto is "Shape students into more inclusive fitness professionals," and he hopes to add a nutrition component to the class and expand to other locations.
 
Participants in ExDS improve in balance, upper and lower body strength, increase in treadmill walking speed, endurance stamina, and cognitive ability. Family members say after participation their loved ones are more involved, cooperative, willing to engage in physical activity, and have an improved mood. Anyone 15 years or older with Down syndrome can participate.  Classes meet every Monday, Wednesday and Friday at the Lincoln YMCA from 4:00 p.m. to 7:00 p.m. 
City-run facilities and programs provide affordable and accessible fitness options. For example, the City of Phoenix Parks and Recreation Pass is $20 a month for a membership to any City recreation centers. Members have access to an open gymnasium, recreation opportunities, lobby and game room areas, a fitness room, health amenities, and free and paid classes and programs. 
The City of Phoenix also provides an adaptive recreation program. Telephone Pioneers Park and Pool has fully accessible amenities of basketball, handball/racquetball, horseshoes, a picnic area, playground, pool, restroom, softball, tennis, volleyball, baseball, ramada and shuffle board. Visitors will find wheelchair accessible trails at Papago Park, North Mountain Park, the Rio Salado Habitat Restoration Area, and the Sonoran Preserve. More information can be found here: https://www.phoenix.gov/parks/adaptive-recreation
Daring Adventures is an inclusive nonprofit that provides access to recreation and public lands for people with disabilities. Their programs range from two-hour cycling programs in Phoenix to an eleven-day river rafting trip on the Colorado River. For a thrill of your lifetime, visit https://www.daring-adventures.org/
Best practices to promote healthy living among people with disabilities should be widely shared.  These include places where individuals with disabilities gather or obtain information, such as group homes, day centers, employment programs, centers for independent living, and at disability-focused conferences. Everyone deserves access to health and fitness information and the opportunity to participate in their communities in the way they desire.  Spring is meant for exploring new experiences, so try out one of these opportunities and get moving!