UPDATE: Service Animals in Arizona
by Brenda Renou, Disability Advocate
Brenda Renou, a commissioner on the City of Surprise Disability Advisory Commission and a former intern with the Council, uses a service animal due to Multiple Chemical Sensitivity, a sensitivity which contributes to other significant conditions such as Chronic Obstructive Pulmonary Disease. Brenda's dog Oren has been trained to detect odors that are noxious to her and alert before respiratory distress begins.  She also assists in training new service dogs, and has a blog dedicated to service animal etiquette and guidelines.
Brenda has compiled helpful info for Arizona residents with questions about service animals.  You can check out the guidelines below:
Only dogs and miniature horses can be service animals and are not considered pets. They must be individually trained to do work or perform tasks for a person with a disability and its work must be directly related to the handler's disability. It is protected under the ADA regardless of whether they have been licensed or certified by a state or local government. A dog that solely comforts or provides emotional support does not qualify under ADA.
Arizona law also states that any trainer or individual with a disability may take an animal being trained as a service animal to a public place for purposes of training it to the same extent as provided to a handler of a fully trained animal.
The animal must be harnessed, leashed, or tethered, unless devices interfere with the animal's work or the individual's disability prevents the use of these devices, in which case, voice, signal, or other effective control must be maintained by the individual (ADA). State law doesn't specifically address the issue but does have a leash law for pet dogs that states it must be "on a leash not to exceed six feet in length and directly under the owner's control when not on the owner's property."
Under the ADA, State and local governments, businesses, and nonprofit organizations that serve the public generally must allow service animals to accompany people with disabilities in all areas of the facility where the public is normally allowed to go. State statute says, Public place means any office or place of business or recreation to which the general public is invited, whether operated by a public or private entity and includes all forms of conveyance, including taxis, tow trucks and ambulances.
The ADA states that when it is not obvious what service an animal provides, only limited inquiries are allowed. Two questions may be asked: (1) Is the dog/horse a service animal required because of a disability? and (2) What work or task has the dog/horse been trained to perform? Owners of service animals cannot be asked about their disability, be required to present medical documentation, required to have a special identification card or training documentation for the dog/horse, or ask that the dog/horse demonstrate its ability to perform the work or task. Arizona State law says discrimination includes requiring an individual with a disability to disclose disability related information.
Existing state law holds no requirements for certification of animals, although some organizations offering training and certification have been known to advise owners that they must certify their animal to qualify as a service animal.  
Service animals can be excluded from public places if:
It is not under control or housebroken (ADA). It also includes barking at the movies, which is a fundamental alteration to the nature of the business.
It poses a direct threat to the health or safety of others, fundamentally alters the nature of the public place or the goods, services or activities provided, or poses an undue burden (State).
The ADA says that zoos must allow service animals wherever the public is allowed to go. State statute has a whole section on zoos (section F) that allows certain exclusions, but ADA takes precedence over state and local regulations.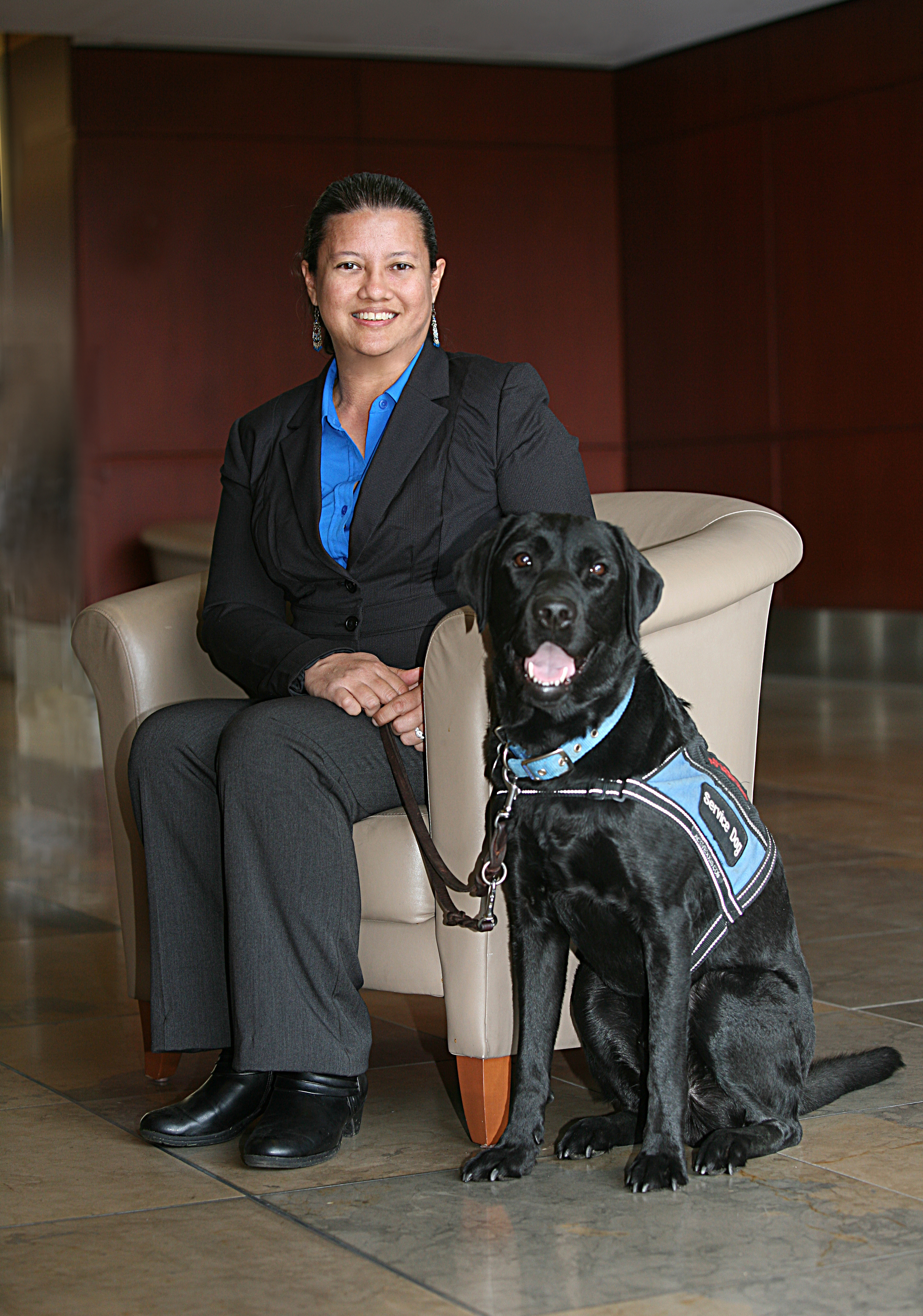 Brenda Renou and her service dog, Oren.
Photo Credit: Tony Gottlob
Fri, 02/14/2014 - 11:10am