Voting and I/DD: Lessons and Information Heading into the 2020 Election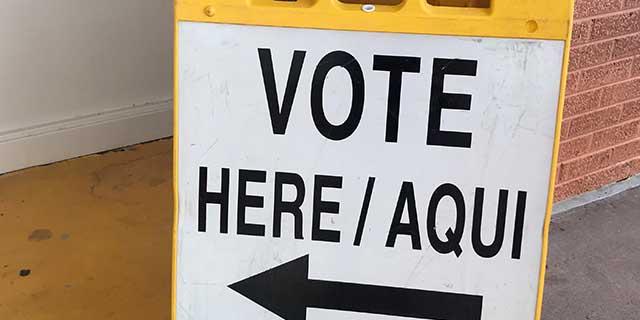 by Julie Whitaker, Program Project Specialist
It's 2020, which means it's another presidential election year! Discussions around the election increase and voter turnout are typically higher with presidential elections, so we thought it was important to share activities the ADDPC has organized around voter registration and ensuring positive voting experiences for people with disabilities.
2018 Voter Registration and Elections
Leading up to the 2018 midterms, an ADDPC student intern raised a dilemma she observed during her work in an Arizona group home: employees throwing mail-in ballots belonging to individuals in the trash.
In response to this revelation, the ADDPC partnered with the Maricopa County Recorder's Office and held meetings with day program members at four agencies -The Opportunity Tree, The Centers for Habilitation, Gompers, and Civitan Foundation, to discuss voting and voter registration during the summer of 2018. As a result, 61 members of these day programs were registered to vote. In addition, 28 newly registered voters expressed interest in becoming voting ambassadors to help educate their peers about the voter registration process.
Though the project was small, the voting ambassadors gained valuable experience helping other eligible day program members register to vote. ADDPC staffers also conducted surveys about the upcoming election. These conversations revealed that people with intellectual disabilities care about voting and were excited to exercise their right to vote, some of them for the first time.
But how many of the individuals actually voted and registered during the voter registration events voted remains unclear. ADDPC staff followed up with voter registration drive participants after either the primary election (August 2018) or the midterm election (November 2018) to discuss their voting experience. Some individuals shared that several factors caused them not to vote; a lack of arranged transportation to the polls, forgetting about election day, and family members not believing they should vote all influenced the outcome. Regardless of whether they voted or not, the conversations with the participants revealed important themes:
The primary reason participants wanted the opportunity to vote was to have their voices heard in the community.
Participants would prefer to vote at a polling place or voting center rather than use mail-in ballots.
Some participants shared that voter information packets and the ballot itself were difficult to read and understand.
Many participants shared that they received voting and candidate information from friends, family members, TV commercials, and caregivers.
Some of the members who registered forgot to vote because there were no voting-related follow-up conversations after the registration event.
After speaking to participants, it was clear to the ADDPC that more research needed to be done to capture what the voting experience is really like for individuals with I/DD in Arizona. From these lessons learned, the ADDPC awarded a voting research grant to the Institute of Human Development (IHD) at Northern Arizona University. The IHD released their findings in summer 2020 - you can read the report online.
Helpful Information about Registering to Vote and Voter Accessibility
The ADDPC wants to make sure everyone who is able and would like to vote can in the upcoming election.
Check out the following information about registering, ballots and voting places from the Arizona Secretary of State's office, which ensures that elections are fair and run smoothly:
How can I register to vote?
Online – If you have an Arizona Driver License and/or an Arizona non-operating I.D. card issued by the Motor Vehicle Division (MVD) you may register to vote through Service Arizona EZ Voter Registration
By Mail – You can either print off a form online (PDF) or request that a registration form be mailed to you from your County Recorder. After completing the voter registration form, mail it to your county recorder's office.
In-Person – You may visit your County Recorder's Office and fill out a registration form in person.
After you have successfully registered to vote, you will receive a voter registration card in the mail within 4-6 weeks.
What is Permanent Early Voting?
All eligible voters can ask to be placed on the Permanent Early Voter List (PEVL). This means they will be mailed a ballot for each election that they are eligible for and allows them to vote from home.
What are the different ways I can vote?
You can vote in person, by mail-in ballot, or by dropping off a ballot that was mailed to you at a polling location or voting center on the day of the election. You can make a one-time early (mail-in) ballot request by contacting your County Recorder office. Being placed on the Permanent Early Voter List will ensure that you will always be mailed a ballot before the election.
Are polling places accessible?
Polling locations and voting centers are accessible. Accessible parking is available. Individuals in wheelchairs and with visual and/or hearing impairments will be accommodated. Sometimes, a change will be made to the polling location to provide easier accessibility for a voter.
Do polling places have accessible voting devices?
All polling locations and vote centers must have an accessible voting device for use by voters with disabilities. Polling locations will also have tools to enlarge print, large print versions of information booklets, and poll workers who are trained to assist individuals with disabilities. View the accessible voting device that will be used in your county.
What is curbside voting?
Curbside voting is when a voter asks an election poll worker to bring a ballot to them outside the polling location or voting center.
How can I get help to sign or complete election materials?
You can choose a person to help you with voting materials and bring them with you to the polling location or voting center. If you would rather have election poll workers help you, you can ask two poll workers (one from each political party) to help you.
Help America Vote Act (HAVA) Hotline:
If you have a problem with voting on the day of an election, you can call the Arizona Center for Disability Law hotline. The Center also will file HAVA complaints and you can access its full voting page here.
Call: 602-274-6287 or 1-800-927-2260
7:00 AM – 7:00 PM on Election Day