2021 American Indian Disability Summit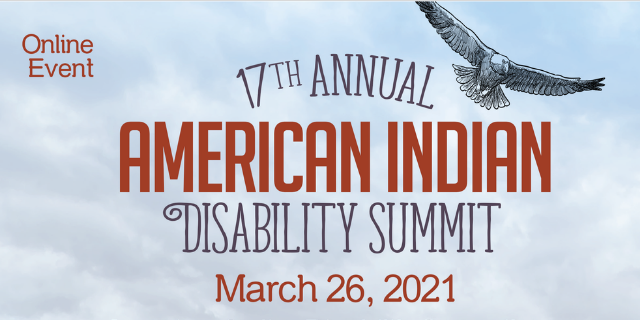 Date/Time:
Friday, March 26, 2021 -

10:00am

to

5:00pm
Captioning and ASL interpretation services will be provided.
Spanish interpretation available upon request. 
We hope you can join us for the FREE 
1
7th Annual American Indian Disability Summit
 at 10 a.m. (MST) on March 26, 2021. The theme of the summit is resiliency and self-care.

The winner of the 2021 Marcus Harrison Jr. Leadership Award will also be announced during the summit. 
OPENING SESSION | 10 AM (MST)
IT'S JUST ME 

Keynote Speaker


Rosalie Perry 
Independent Living Skills Advocate
Ability 360 - Pinal County 
Due to the COVID-19 pandemic, the summit will entirely take place virtually using the Zoom platform. If you have any questions or need assistance with registration, please contact Darrel Christenson at 
[email protected]
. 
BREAKOUT SESSIONS
We are grateful to have guest speakers representing different areas of the disability field and varying perspectives on American Indian culture.
Advocating for Empowerment and Self-Care
Jim Warne from the Oglala Lakota Nation will address the importance of Advocacy, Leadership and Empowerment for people with disabilities. Self-Care involves balance and wellness as a service provider. Many of us forget to ensure our own wellness in order to provide effective care and service to our communities and family members.  
Speakers
Jim E. Warne | Warrior Society Development, LLC & UArizona Sonoran Center for Excellence in Disabilities 
Advocating for Your Health | Practicing Resilience though Preventative Healthcare During COVID-19
This interactive session will explore strategies for women with disabilities to communicate with their healthcare providers and support networks about their health needs, with a particular focus on preventive healthcare services.
Speakers
Marissa Adams | Northern Arizona University 
Julie Armin | UArizona Sonoran Center for Excellence in Disabilities
Dana Russell | Hopi Cancer Support Services
Veronica Boone | Tucson Indian Center
Heather Williamson | Northern Arizona University Center for Health Equity Research
Supported Decision Making: A Less Restrictive Alternative to Legal Guardianship
Learn how Supported Decision-Making supports self-determination, growth and personal safety by ensuring individuals with disabilities receive proper assistance in making key life decisions for themselves. When guardianship isn't appropriate, Supported Decision-Making might be the ideal solution.
Speakers
Juliana Huereña | Southwest Institute for Families & Children
Jon Meyers | The Arc of Arizona   
Sey In | Arizona Center for Disability Law 
Reclaiming Advocacy in Native Communities 
The Native American Disability Law Center will present the issues facing Native Americans with disabilities to increase awareness of advocacy approaches that can be considered by other Native communities.
Speakers
Annette Yazzie | Native American Disability Law Center
Hoskie Benally
| Native American Disability Law Center
Self-Advocacy Solutions
Self-advocates will provide tips and resources to build self-advocacy and evaluate efforts to ensure voices of the disability community are being heard. The panel will also share information on the newly formed statewide self-advocacy coalition, Self-Advocacy Solutions, to Arizona and how audience members can support the movement. 
 
Speakers
Erica McFadden | Arizona Developmental Disabilities Planning Council 
Jordan Moon | SAAVI   
Calvin Cook | Diverse Ability Incorporated
Eileen Tohonnie | Assist to Independence 
Monica Cooper | People First Arizona
Warriors of Resilience: Promoting Cultural Well-Being
Native American youth are Warriors of Resilience and the future of sustaining and forging strength-based paths for our Indigenous communities. Attendees will identify concepts of the Nahongvita Model (Self-Empowerment) to maintain connections to their home communities and promote cultural well-being as they navigate the modern world. 

Speaker
Dr. Darold Joseph | Northern Arizona University 
Alisse Ali-Joseph | Northern Arizona University
Hannah Honani | Hopi Foundation
Eugene Cody | Hopi Foundation
Teresa Martza | Northern Arizona University
Lexie James | Miss Native American USA