ABLE accounts presentation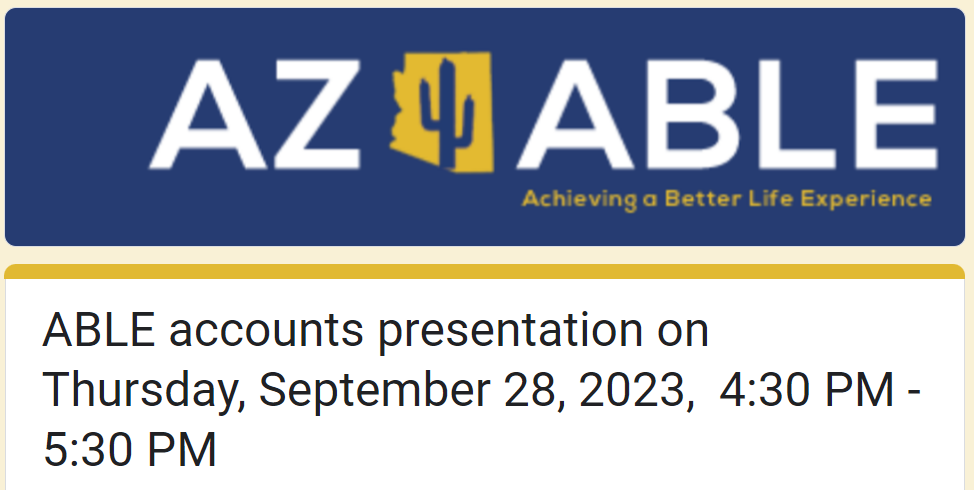 Date/Time:
Thursday, September 28, 2023 -

4:30pm

to

5:30pm
An ABLE account is designed especially for an individual living with a disability that occurred prior to age 26. The account allows individuals with disabilities to save money without losing essential benefits or services.
The Arizona Developmental Disabilities Planning Council (ADDPC), Pima  County School Superintendent Dustin Williams, Raising Special Kids, and Tucson Unified  School District are partnering to provide an in-person presentation on Achieving a Better Life  Experience, or ABLE, accounts for individuals who have a disability on Thursday, September 28, 2023, from 4:30 pm – 5:30 pm, in Tucson. Passage of the federal ABLE Act in December 2014 paved the way for the Arizona legislature to pass legislation in 2016, that created ABLE accounts in Arizona. The legislation allows people with disabilities, their families and friends the option to contribute to tax-exempt savings and investment accounts for disability-related expenses without affecting eligibility for state or federal benefits.
"ABLE accounts give people with disabilities more independence and financial security than they have ever had before," stated Jon Meyers, ADDPC Executive Director. "This presentation should provide a ray of hope for individuals and families who have long struggled with how to save for the future without losing their current supports and services."
Pima County School Superintendent Dustin Williams shared, "I am excited that our students with disabilities and their families have a way to save and pay for expenses outside of school, such as basic living expenses and housing, without having to impact their eligibility for Medicaid  benefits."
The presentation by Brittney Chipley, Executive Director of AZ ABLE, will take place at Innovation Tech High School, located at 3300 S. Park Ave. in Tucson. The event is free and open to the public. We are asking you to register in advance at the following: Registration link