Addressing Sexual Violence in I/DD Communities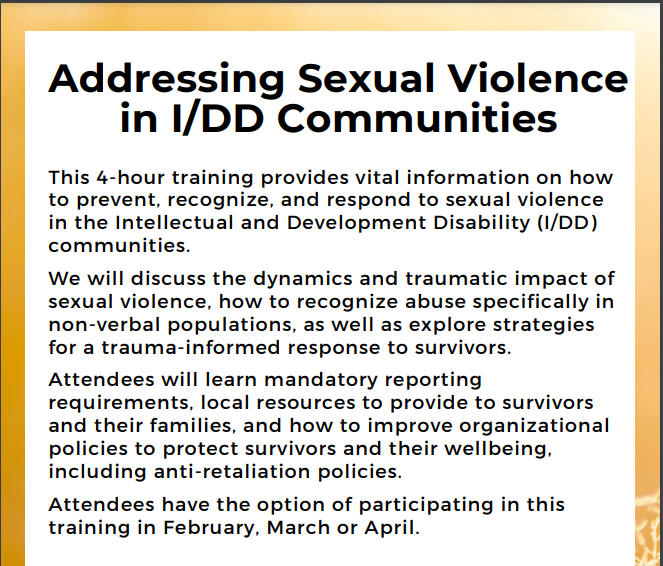 Date/Time:
Thursday, March 31, 2022 - 12:00pm
to
Monday, May 23, 2022 - 4:00pm
Series Description
This 4-hour training provides vital information on how to prevent, recognize, and respond to sexual violence in the Intellectual and Development Disability (I/DD) communities. We will discuss the dynamics and traumatic impact of sexual violence, how to recognize abuse specifically in non-verbal populations, as well as explore strategies for a trauma-informed response to survivors. Attendees will learn mandatory reporting requirements, local resources to provide to survivors and their families, and how to improve organizational policies to protect survivors and their wellbeing, including anti-retaliation policies. Attendees have the option of participating in this training in February, March or April.
March - Addressing Sexual Violence in I/DD Communities (March 31, 2022 12:00 PM - March 31, 2022 04:00 PM)
April - Addressing Sexual Violence in I/DD Communities (April 20, 2022 09:00 AM - April 20, 2022 01:00 PM)
May - Addressing Sexual Violence in I/DD Communities (May 23, 2022 12:00 PM - May 23, 2022 04:00 PM)