Arizona Department of Education IDEA Conference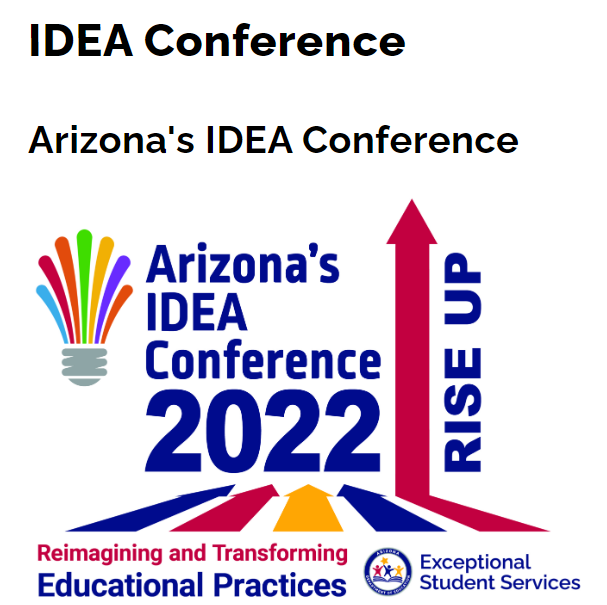 Date/Time:
Wednesday, September 7, 2022 - 8:00am
to
Friday, September 9, 2022 - 5:00pm
ADE/ESS is excited to share that Arizona's 2022 IDEA Conference will be held in person from September 7–9, 2022 at the JW Marriott Desert Ridge in Phoenix.
This year's theme is Rise Up: Reimagining and Transforming Educational Practices. This cross-stakeholder event includes special education administrative staff, youth and young adults with disabilities, family members and caregivers, state agency staff, educators, service providers, and community members who share a commitment to student success.
The event will feature over 75 professional learning opportunities, including IDEA legal issues, instructional practices, national trends and hot topics, special education compliance, preschool and secondary transition, social/emotional learning, and new this year, a strand for Early Childhood Special Education.
Please bookmark the IDEA Conference website for updates and registration information. 
ESS appreciates this opportunity to learn with each of you and looks forward to the year ahead. Please send questions to the IDEA Conference inbox.
Youth and Family Scholarship Opportunity for Arizona's 2022 IDEA Conference Click Here A limited number of free registrations are available. Deadline is June 30, 2022
ADE/ESS is also pleased to announce the opening of registration for the 2022 IDEA Conference. The conference registration fee for professionals is $450 per person and can be paid by credit card, check, or purchase order. ADE/ESS is aware that PEAs may have approaching procurement deadlines related to the issuance of purchase orders, so please do not delay in registering for the conference. Registration is anticipated to fill quickly. Due to the reduced capacity at this year's conference, ADE/ESS may cap registrations at the entity level in order to ensure that all stakeholders have an equitable opportunity to attend. ADE/ESS will communicate directly with your entity if this cap occurs. Register for the 2022 IDEA Conference in the Event Management System (EMS). To learn more about registration and see Frequently Asked Questions, please visit the IDEA Conference Registration webpage.
Please bookmark the IDEA Conference website for updates throughout the summer. Questions about the conference or registration can be sent to the IDEA Conference inbox.