Free Covid-19 Vaccines in Tucson.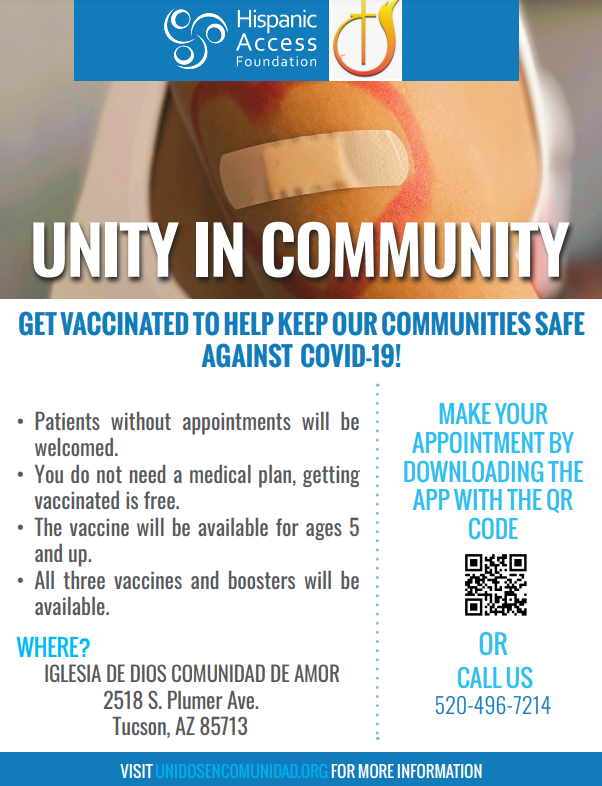 Date/Time:
Thursday, April 21, 2022 - 2:00pm
to
Thursday, July 28, 2022 - 6:00pm
The "Unity in Community" COVID-10 Vaccination Project is an initiative of Hispanic Access Foundation in partnership with the Health Resources and Services Administration. The project's goal is to encourage local communities to either get vaccinated or find resources about getting vaccinated. To learn more about the project, please visit:
ADHS has partnered with Hispanic Access Foundation and local community leaders in hosting Unity in The Community/ Unidos En Comunidad COVID-19 Vaccine Events at two sites in Tucson and Nogales. These events are open to all community members over 5 regardless of insurance coverage. 
GET VACCINATED TO HELP KEEP OUR COMMUNITIES SAFE AGAINST COVID-19!
• Patients without appointments will be welcomed.
• You do not need a medical plan, getting vaccinated is free.
• The vaccine will be available for ages 5 and up.
• All three vaccines and boosters will be available.
WHERE? IGLESIA DE DIOS COMUNIDAD DE AMOR 2518 S. Plumer Ave. Tucson, AZ 85713
For more information please visit: UNIDOSENCOMUNIDAD.ORG
CALL US 520-496-7214
When: Thursdays and Saturdays from 2:00 pm till 6:00 pm