Glendale Childhood Immunization Clinic Free Vaccines ages 6 months to 18 years old Open Mondays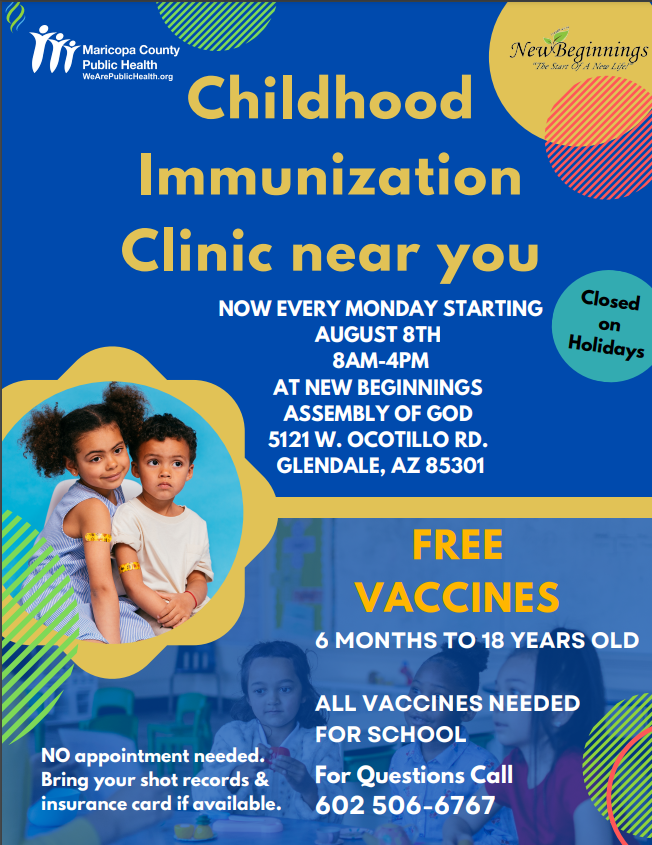 Date/Time:
Monday, August 8, 2022 - 8:00am
to
Monday, August 29, 2022 - 4:00pm
We are excited to announce Maricopa County's brand new childhood immunization clinic in Glendale located at New Beginnings Assembly of God 5121 W Ocotillo Rd, Glendale, AZ 85301. The clinic is open on Mondays (closed on holidays) beginning this Monday August 8th 2022 from 8AM-4PM. This clinic is open to all children ages 6 months- 18 years and will offer all the necessary back to school immunizations. No appointment is necessary, please bring your immunization records and insurance info (if applicable). 
Please see attached flyers for more details. For questions about vaccines call the CARES center at 602 506-6767. Children need parent or legal guardian consent to get vaccinated. 
Please feel free to share among your teams and networks.
ADHS HEOC Team
Arizona Department of Health Services
Health Emergency Operations Center (HEOC)
Health and Wellness for all Arizonans