Supported Decision-Making for Medical Professionals and Staff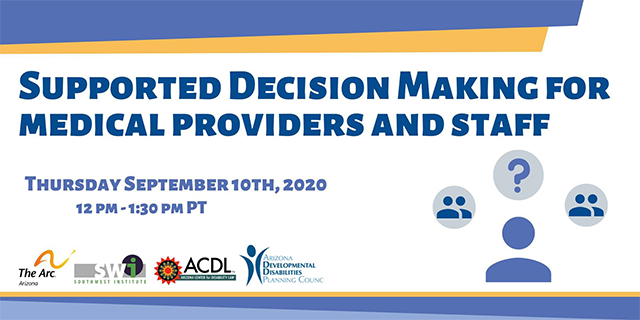 Date/Time:
Thursday, September 10, 2020 -

12:00pm

to

1:30pm
Register using the Eventbrite link below: https://www.eventbrite.com/e/114479260550
To ensure the well-being of people with disabilities, legal guardianship is often viewed as the only option available for those who choose to help adults with disabilities. Yet, legal guardianship is not always necessary. Supported Decision-Making is a growing alternative to legal guardianship. It allows people with disabilities to maintain their rights while receiving the support they need to make well-informed decisions. Join us to learn more about how Supported Decision-Making serves as a less restrictive alternative to guardianship.
In this training you will learn about:
How does Supported Decision-Making work
How to work with patients who use Supported Decision-Making
What is a Supported Decision-Making Plan
What are the legal rights of people who use Supported Decision-Making
How to increase self advocacy skills of patients with disabilities
Register using Eventbrite and you will receive a link for the free online training: https://www.eventbrite.com/e/114479260550
If you need online accommodations, please let us know at least 3 days in advance in the registration form or contact George Garcia at [email protected]