Supported Decision-Making for People with Disabilities and Their Supports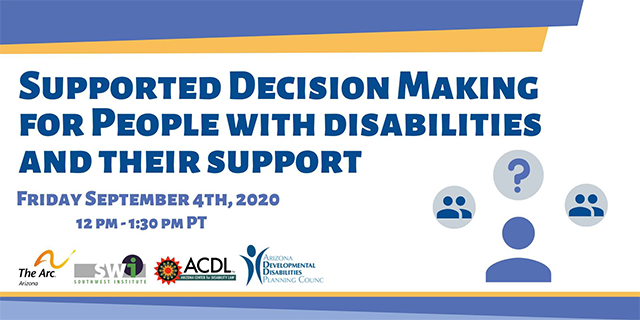 Date/Time:
Friday, September 4, 2020 -

12:00pm

to

1:30pm
Join this online workshop
It is hosted by the Southwest Institute for Families and Children and you can sign up 
Register using the Eventbrite link below:
https://www.eventbrite.com/e/114474708936
Searching for an alternative to Legal Guardianship for people with disabilities?
Join us to learn more about how Supported Decision-Making serves as a less restrictive alternative to Guardianship.
Learn how to develop a plan of support that will allow a person with a disability to keep their rights while getting the support they need to live independently.
Register using Eventbrite and you will receive a link for the free online training.
https://www.eventbrite.com/e/114474708936
If you need online accommodations, please let us know at least 3 days in advance in the registration form or contact George Garcia at [email protected]