Virtual Disability Roundtable - Maricopa County Recorder's Office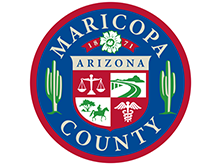 Date/Time:
Thursday, May 28, 2020 -

10:00am

to

12:00pm
The Maricopa County Recorder's Office and Elections Department and the Arizona Center for Disability Law (ACDL) will host a virtual Disability Roundtable on May 28, 2020 from 10:00 am to 12:00 pm.
Please register for the Disability Roundtable at the following link: https://disabilityadvocatesroundtable.eventbrite.com
Maricopa County Recorder Adrian Fontes and other election officials will be discussing the steps the County has taken in preparing for the upcoming primary election, which will be held on August 4, 2020, and the general election on November 3, 2020. 
This may be the last opportunity for the disability community to meet in a public forum with Recorder Fontes and other elections officials prior to the August election in Maricopa County.
In lieu of COVID-19. Recorder Fontes and other election officials will discuss and provide information on voting options for individuals concerned with voting in person at the polls.
In addition, they will discuss additional steps the County will implement to protect the health and safety of poll workers, voters, and staff.
Anyone with questions can contact Renaldo Fowler at [email protected] or by phone at (602) 274-6287 ext. 215