Council Member and longtime tribal advocate wins leadership award
Council Member and longtime tribal advocate wins leadership award
Angelina James serves northern AZ tribal, disability communities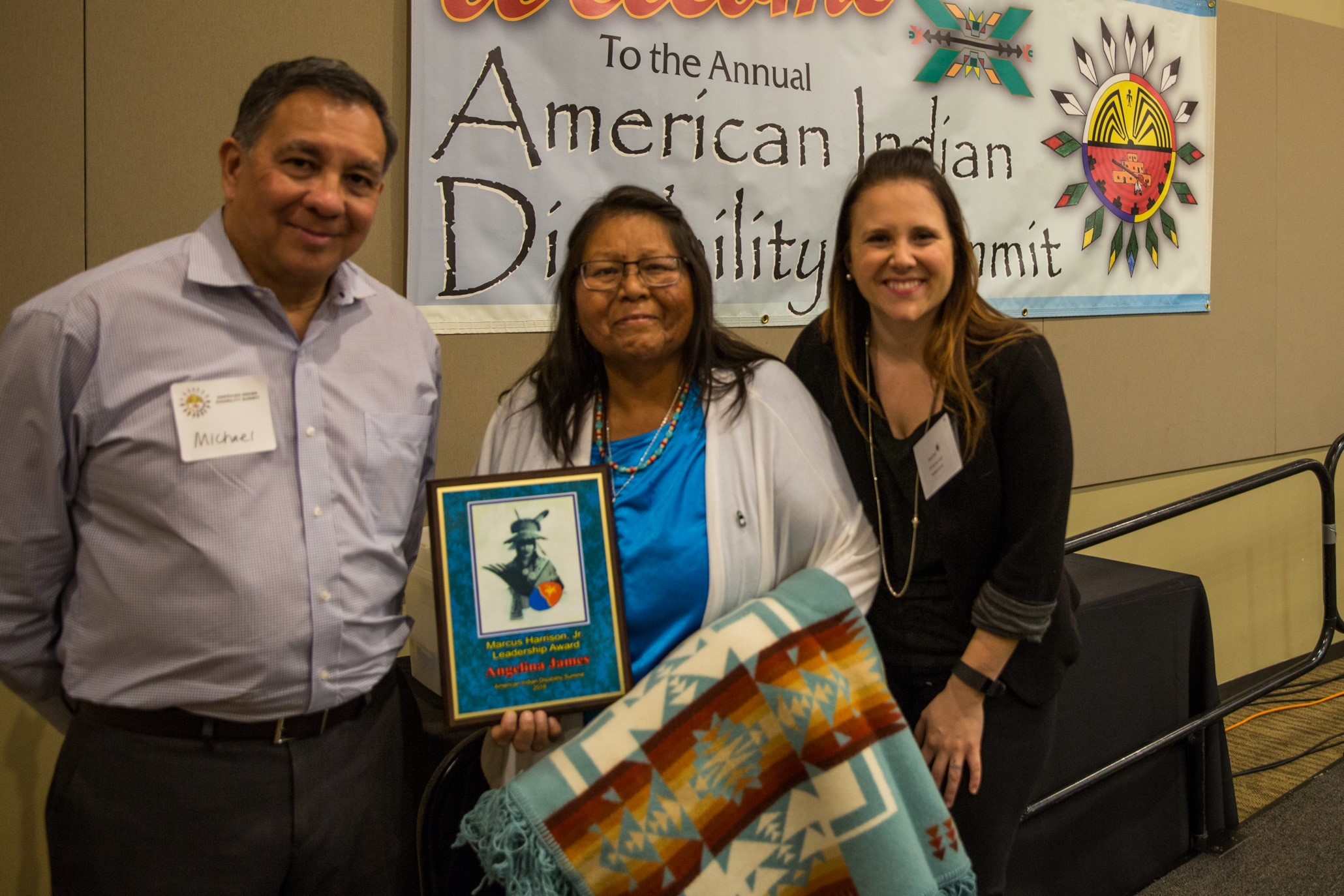 PHOENIX—We're excited to announce Council member Angelina James took home the 2018 Marcus Harrison, Jr. Leadership Award at the 14th Annual American Indian Disability Summit on March 23, 2018.
Angelina is an active member of the Hopi and Navajo communities and lives in Second Mesa, Arizona, and is a proud mother and grandmother. She was nominated by council staffer Mike Leyva for the award, who has worked with Angelina on several projects over the years.
For more than 25 years, Angelina has made a significant impact as a passionate advocate for people with disabilities, especially American Indian people living with disabilities. She earned a Bachelor's degree in Social Work from New Mexico Highlands University, then put her learning into action as a student development specialist, counselor, part-time faculty member, outreach worker, child protective services case worker, enumerator, election poll worker, and student financial planner, as well as in other professional and volunteer positions.
Angelina's volunteer activities are as varied as her skills. They include:
Working in her local community with Hopi Tribal Members to co-found the Hopi Disability Advocacy Group to ensure that all persons with disabilities have equal access to employment, education, housing, public safety, communications, recreation, medical treatment and socialization;
Helping individuals and families understand their rights and services on Hopi;
Serving the statewide disability community on the Arizona Developmental Disabilities Planning Council as an advocate and family member to help increase employment opportunities, encourage individuals to advocate for themselves and promote community inclusion;
Graduating from the 2014 Partners in Leadership program through Pilot Parents of Southern Arizona, further solidifying her credentials as an advocacy leader for individuals with disabilities;
Serving as a Board Member on the Arizona Center for Disability Law to help protect the rights of individuals with a wide range of physical, mental, psychiatric, sensory and intellectual disabilities;
Public speaking about disabilities issues and encouraging others to advocate for themselves and their family members; and
Simply being a friend to those who are in most need of one.
Angelina is a tireless advocate and disabilities warrior always at the forefront of a movement or cause to help individuals with or without disabilities. In particular, she is motivated to gain more knowledge on how to address the inadequacy of resources in remote areas. She perseveres, doesn't easily take "no" for an answer, and, when an important issue needs to be addressed, will figure out a way to make something happen.
She was one of 13 individuals from across the U.S. selected to attend the National Leadership Consortium on Developmental Disabilities, receiving training for emerging leaders. Building upon the opportunity for collaboration and development of a national network of support in the area of advocacy for people with disabilities, she proudly shares the skills and knowledge she learned. Angelina possesses drive and determination and consistently steps up to serve as a community leader. These qualities are demonstrated in her commitment to engage people in civic life, driving throughout the Hopi and Navajo reservations to register individuals to vote, to make them aware of the important issues affecting them, and to reinforce an understanding of why it is important for them to vote. (Indeed, she spends so much time traveling to fulfill her tasks, the odometer on her vehicle says, "Angie I can't record any more miles!")
Angelina James has touched and enriched the lives of people throughout Arizona. Her work has demonstrated lasting results and impacted individuals in the both in the disability community and the community at large.
Congratulations, Angelina! We are proud of you.
###