Webinar to focus on business tips to adopt ADA
WEBINAR: Attract Customers & Avoid Lawsuits: ADA Compliance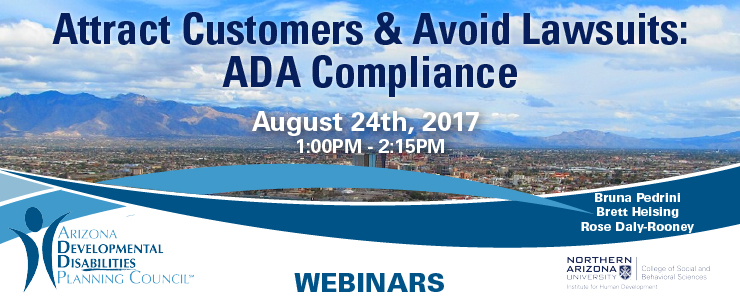 JOIN US ON THURSDAY, AUGUST 24 FROM 1:00-2:15 P.M.
Lawsuits from individuals alleging violations of the Americans with Disabilities Act have swept through Arizona recently. Customers come in all shapes, sizes and abilities. Learn how to be proactive and adopt the ADA into your business to attract all patrons, including through the next frontier of communication—website accessibility. 
- Get updated on the law to protect yourself
- Learn tips for making your business accessible to customers of all abilities
- Hear the business case for the ADA from a business owner with a disability
Presenters:
Bruna Pedrini regularly advises business owners as an attorney practicing in the areas of accessibility, anti-discrimination, and education law with Fennemore Craig. She formerly served in the Civil Rights and Conflict Resolution Divisions for the Arizona Attorney General's Office.
Brett Heising is the Founder and CEO of brettapproved.com, a travel website for people with disabilities. Brett was an inaugural member of SEED SPOT, a Phoenix-based competitive incubator for social entrepreneurs.
Rose Daly-Rooney currently serves as legal director for the Arizona Center for Disability Law. Her past experience includes working in the Civil Rights and Conflict Resolution Divisions of the Office of the Arizona Attorney General. She is one of the authors of the Arizona Employment Law Handbook.
Give us a call for more info at (602) 542-8973