APSE Blog - What is APSE?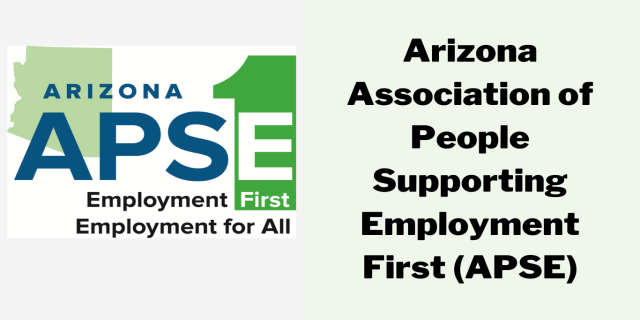 Guest Blogger: An AZ APSE Board Member 
What is APSE?
The Association of People Supporting Employment First (APSE) is the most important organization you have never heard of. APSE fights for "the full inclusion of people with disabilities in the workplace and community." National APSE was created in 1988, before the ADA even passed, and has been advocating for individuals with disabilities for over 30 years. We have had our own chapter here in Arizona since 2017, but somehow many Arizonians have not heard about us yet.
One of the ways National APSE advocates is by offering analysis of policy and legislation around the country. You can see the position statements and which Federal legislation APSE supports on their website. This analysis helps voters understand how people with disabilities will be impacted by their choices at the polls.
In 2011 APSE created the Certified Employment Support Professional (CESP) credential. Becoming a CESP shows that you have the "knowledge and skill needed to provide employment support services." Until this program was created, there were no national guidelines for what it meant to be a qualified employment support professional. Because of APSE's mission, CESPs are focused on integrated competitive employment. This means that you can expect CESPs to provide support and strategies to individuals of any ability level who want to work.
APSE is a membership organization because chapters need funds to make changes in our communities. Here in Arizona our chapter has updated our website, started a Youth Advisory Council, conducted trainings on Employment First, and held our first annual Mini-Conference.  None of this great work would have been possible without the fees from our fabulous members. If you want to be involved with the work Arizona APSE is doing, check out how to become a member.
Fri, 12/09/2022 - 12:20pm