Down Syndrome Awareness Month Article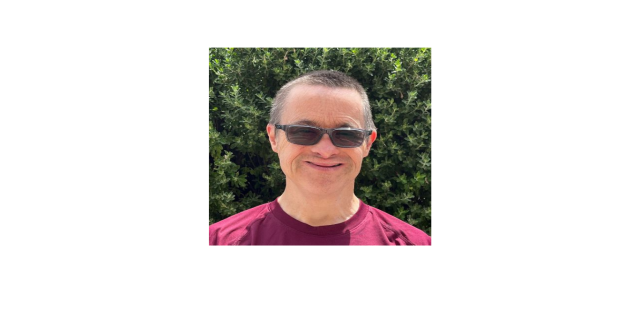 October is Down Syndrome Awareness Month. The Southern Arizona Network for Down Syndrome (S.A.N.D.S.) cannot think of a better way to celebrate than to highlight a fantastic self-advocate and the S.A.N.D.S. 2023 Walk for Down Syndrome Grand Marshal, Chad McKinley. 
Born and raised in Tucson, AZ, Chad graduated from Amphi High School and participated in classes at Pima Community College. He also graduated from the Partners in Policymaking program. Partners in Policymaking is a free program designed to teach people with disabilities and family members the power of advocacy to positively change how people with disabilities are supported, viewed, guided, live, and work. He worked as a clerical intern for several years at the Beacon Foundation and Dot Kret Associates. 
 Chad has been active with several organizations, including The Arc of Tucson, People First of Arizona, the Arizona state Division of Developmental Disabilities Self Determination Council, and S.A.N.D.S. as their longest-serving board member. Chad was a founding member of People First of Tucson. For several years, he represented Tucson at the National Down Syndrome Society's Adult Advocacy Conference. At the conference, he joined hundreds of self-advocates nationwide to meet with their Senators and Representatives in Washington, DC. Along with his membership in various organizations and several boards, Chad enjoys advocating across all forms of media. He has appeared on KGUN Channel 9's the Morning Blend, interviewed on Tucson Access programs, and advocated through articles in the Arizona Daily Star, to name a few. 
One of Chad's most significant accomplishments, which he is very proud of, was being a speaker with Toastmasters International. Toastmasters is an international organization that builds confidence and teaches public speaking skills. His love for advocacy and outreach took him to Toastmasters, where he earned his Competent Communicator and Competent Leader recognitions, which less than 10% of Toastmasters receive. Chad entered his inspirational "Up Syndrome" Toastmasters speech in the Club International contest, where he stated, "Now look at me. People think I have Down syndrome. I look at me and say I have Up syndrome!"
While life has slowed for Chad in recent years during his retirement, he still enjoys social activities and spending time with his friends and his older sister, Cheri. Chad's many accomplishments and advocacy efforts have opened people's hearts, minds, and ideas of what individuals with Down syndrome can accomplish. He inspires the community he represents and anyone who wants to live a life full of meaning and purpose. 
Chad's life has common themes of advocacy, education, and awareness. With commitment and hard work, Chad has been able to reach outside his local Tucson network and be a shining example of how one person, one voice, can inspire a community.
The Southern Arizona Network for Down Syndrome is thrilled to honor Chad as its 2023 Grand Marshal, and he will lead the Walk and fill families' hearts with possibilities for our loved ones who have Down syndrome as they celebrate all people with Down syndrome! The S.A.N.D.S. Walk for Down Syndrome will be held on Saturday, October 28, 2023, from 11:00 AM – 2:00 PM MST at Mica Mountain High School at 10800 E. Valencia Rd. Tucson. Click here to learn more about the S.A.N.D.S. Walk for Down Syndrome.