September is National Service Dog Month!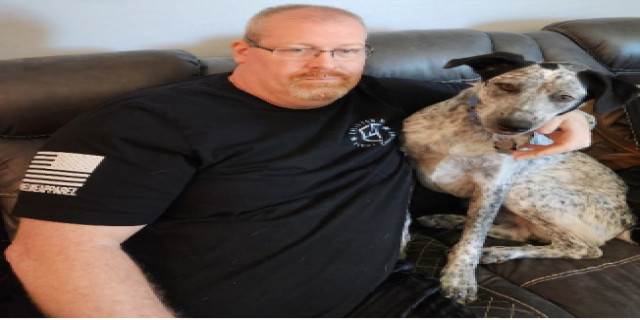 by James Gillespie, Sergeant First Class, U.S. Army (retired)
I am a 20-year U.S. Army veteran. While in the service, I was a Medic and a Military Police officer, working with and training military working dogs for patrol, narcotics, and explosives detection, with three combat deployments. In addition to my military service, I worked for over 25 years in law enforcement.
That may sound glorious to some and I am proud of the work I have done. However, this line of work comes at a price. It exposes one to multiple undesirable situations that most people cannot understand. For me, it resulted in severe Post-traumatic Stress Disorder (PTSD) from the violence in my environment. During my last deployment, I sustained a severe head injury that caused me to have a permanent traumatic brain injury (TBI). Having both PTSD and TBI, I exhibit a variety of symptoms (anxiety, memory loss, vertigo, and a strong dislike of crowds, to name a few) that require me to have assistance.
Something as simple as an odor can trigger my PTSD and it takes me, for a time, to places I never want to be again.
My wife and I rescued Shadow in August 2020 and began his basic training when we realized my life was shrinking daily. The Foundation for Service Dog Support (FSDS) program has given me the skills and resources to train my dog and retain my dignity. Shadow is a gift that keeps me functional. He helps me recover from PTSD-induced nightmares more quickly by applying pressure and licking my face to interrupt the reaction. He herds me away from crowds when he senses it is causing me anxiety or an aggressive response before I get triggered.
I am so grateful to FSDS and its outreach Program for allowing me to leave the house and do things with my family again. They let me and other veterans enjoy "A New Leash on Life." 
To learn more about the Foundation for Service Dog Support, call 623-200-9762 or visit their website at https://servicedogsupport.org/.
Editor's note: Service dogs can be used to assist people with a variety of disabilities, including intellectual and developmental disabilities (I/DD). Brenda Renou, a commissioner on the City of Surprise Disability Advisory Commission and a former intern with the Council, uses a service animal due to Multiple Chemical Sensitivity, a sensitivity which contributes to other significant conditions such as Chronic Obstructive Pulmonary Disease. Brenda posts the stories she receives regarding service animals on her blog, where a variety of people share their experiences and ask questions about service animals.