Diversity and Inclusion
Our Vision
A developmental disabilities system in Arizona that works in partnership with all diverse communities to support cultural and linguistic competency. That means we will embrace, respect, and seek to understand the beliefs, interpersonal styles, attitudes, languages and behaviors of individuals with developmental disabilities.
SELF-ADVOCACY GROUPS FOR SPANISH SPEAKERS: PHOENIX & YUMA
The Council has funded two projects creating self-advocacy workshops for Spanish-speaking adults in Yuma and Phoenix. The projects provided a way to explore how self-determination for people with developmental disabilities is viewed through a Latino cultural lens, especially among first-generation self-advocates and family members who primarily speak and access resources in Spanish. 
Click here to read the Phoenix report
Click here to read the Yuma report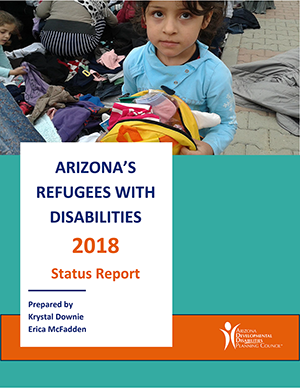 RESEARCH PROJECT: FINDING REFUGEES WITH DISABILITIES IN ARIZONA
During the first half of 2018, the Arizona Developmental Disabilities Planning Council surveyed disability organizations and refugee resettlement agencies in the Phoenix and Tucson service areas. The goal? Find out if service providers and case workers knew about available disability services for refugees with identified disabilities. This preliminary report reveals the survey findings and serves as a starting point for future collaborations through the Community of Practice organizations, as well as any group actively working with Arizona refugees.
The leadership team received a 5-year grant from Georgetown University's National Center for Cultural Competence to build a community of practice. This statewide community of practice is charged with driving system change that will result in a linguistically and culturally competent DD system.
Schools, providers, and families play important roles in awareness and understanding of the value of therapeutic and inclusive recreation programming, and establishing systematic strategies to advance TIRP at the school level. The process involves a series of actions and steps that can be initiated by any member of a school community, including providers and families.